Servicing
---
---
Take the hassle and worry out of looking after your pool or spa by enlisting the help of our convenient mobile pool service.
Willows Pool Shop, located in Thuringowa Central, Townsville has 8 fully equipped mobile service utes available for installations, cleaning, maintenance and repairs.
---
Green Pool Restoration
A green pool is not only unsightly; it is also a breeding ground for disease and a potential death trap. Using proven methods and qualified pool technicians, Willows Pool Shop tackles the tough green pools that others walk away from.
Our methods and our use of quality chemicals means you pay less for a better job. At the end of the service we return to you a working and fully balanced swimming pool, ready to be enjoyed.
Before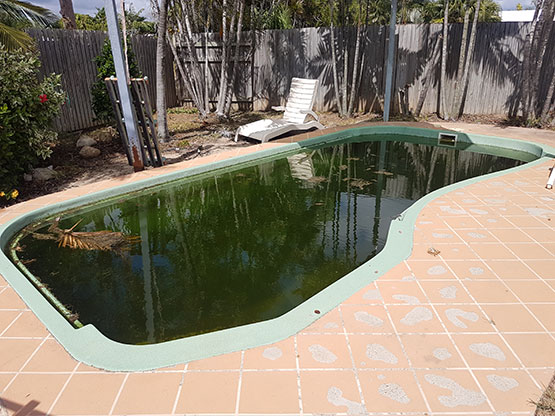 After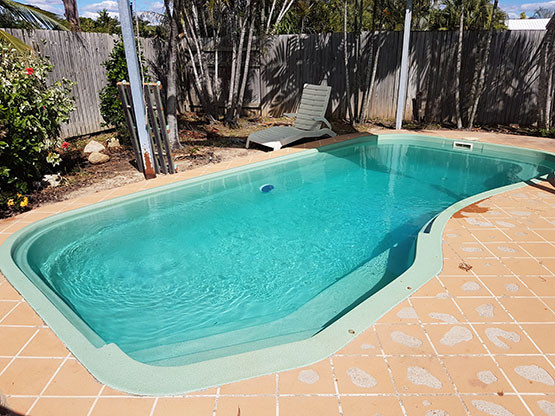 ---
Onsite Service & Repairs
At Willows Pool Shop every member of our team receives quality industry training, so you can rest assured your equipment is correctly installed to manufacturer and industry standards. We offer a comprehensive mobile service facility for all types of vinyl, fibreglass and concrete pools and spas, and for all brands of equipment.
We also stock an extensive range of spare parts so we can fix any issue with minimal downtime. Our fully qualified technicians can perform manufacture-directed services to help prevent costly breakdowns and are available for the cleaning and/or changing of the filter media in your system, along with the inspection and service of multiport valves. We offer a two stage cleaning service for cartridge filters which is ideal for both pools and spas, and can detect and repair leaks in above and below ground pools.
Our large mobile fleet is ready to respond to all your pool service and repair needs.
During on Site Services we provide the following service:
Leaf scooping of surface debris
Algae removal
Vacuuming pool floor, steps and swim outs
Emptying of skimmer and pump baskets
Filter clean, back washing or cartridge clean
For salt pools a clean of the electrode
Equipment inspection
Equipment maintenance when required
Water analysis and chemical application
Brushing/scrubbing water line debris
---
Training
Maintaining a swimming pool or spa can seem like a daunting process. That's why Willows Pool Shop offers a customised training service for new pool owners and tenants alike.
We can demonstrate how a simple 'preventative' maintenance routine can keep your pool or spa in pristine condition. We have training programs for those who are new to pool or spa ownership, through to those who may just need a refresher course or familiarisation on their new pool and equipment.
Property managers and tenants can also gain invaluable knowledge with our training programs.
---
Inspections
There are many reasons why a comprehensive report on the condition of your pool or spa could be of value.
These include:
The identification of issues prior to an agreement to purchase a property. We can provide a comprehensive report on the condition of the swimming pool, equipment and fencing, before your clients finalise the purchase offer.
Assistance with dispute resolution at the end of tenancy. We can provide a comprehensive report prior to tenants moving in.
We maintain and advise on the standard of your pool fence so that it is up to Council standard and compliant with the new pool rules that came into effect as of 1st Dec 2015.
---
Problem Solving
Our qualified team is fully equipped to solve all of your pool and spa problems. Willows Pool Shop can assist with faults, such as:
Equipment Failures
Leaking Pipe Work
Automatic Pool Cleaner Problems
Surface Staining
Algae Removal
Chlorination Faults
Swimming Pool Leak Detection
Spas
---
Installations
If you can't come to us, we'll come to you.
Our service vehicles can bring equipment to you and install onsite we even of free installation on all new pieces of equipment purchased in store. Ensure your equipment is correctly installed to manufacturer and industry standards with Willows Pool Shop.
OUR GUARANTEE TO YOU CRYSTAL CLEAR WATER ALL YEAR ROUND GUARANTEED.
Contact us today for a free no obligation quote when you mention this offer.
---